A RESOURCE POINT FOR THOSE WITH FIBROMYALGIA AND OTHER CHRONIC PAIN ILLNESSES.
YOUR ADDITIONS AND FEEDBACK WILL GREATLY PLAY INTO THIS SITE HELPING OTHERS.




ANSWER SOME COMMON QUESTIONS REGARDING FMS AND CFIDS THEN VIEW THE RESULTS


Please sign my guestbook it allows me to know if any of you enjoyed my site and what I can do to make it more enjoyable or more informative,,,,THANK YOU :)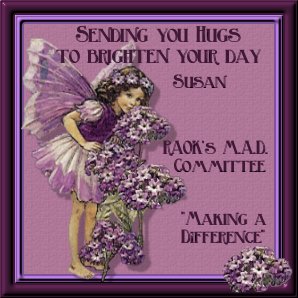 THIS BANNER WAS GIVEN TO ME BY A WONDERFUL LADY I HAVE YET TO GET TO KNOW. SHE IS A MEMBER OF THE "RAOK", RANDOM ACTS OF KINDESS GROUP. I FOUND THIS LITTLE GIFT SITTING IN MY EMAIL BOX WAITING FOR ME ONE MORNING AND I CANNOT TELL YOU HOW IT MADE MY DAY AS I HAD, HAD A PARTICULAR ROUGH NIGHT. THIS GROUP OF DEDICATED INDIVIDUALS SEARCH THE WEB AT RANDOM GIVING OUT KINDESS TO ANY PARTICULAR PERSON THEY FEEL IT SHOULD BE BESTOWED UPON. THIS IMPRESSED ME SO MUCH I HAVE APPLIED TO BE PART OF THIER CAUSE.
GOD BLESS YOU SWEET POLLY!!!
A PROUD MEMBER OF A VERY SPECIAL GROUP
OF LOVING GIVING INDIVIDUALS ON THE NET



PLEASE REPORT ANY DEAD LINKS OR IMAGES
YOU MAY FIND DESCRIBING WHAT THEY ARE
TO THE BELOW LINK. PLEASE ALSO REPORT
IF THIS WEBSITE VIEWS INCORRECTLY IN YOUR
BROWSER OR IF THE PAGES SEEM TO LOAD TO
SLOW...THANK YOU!!!